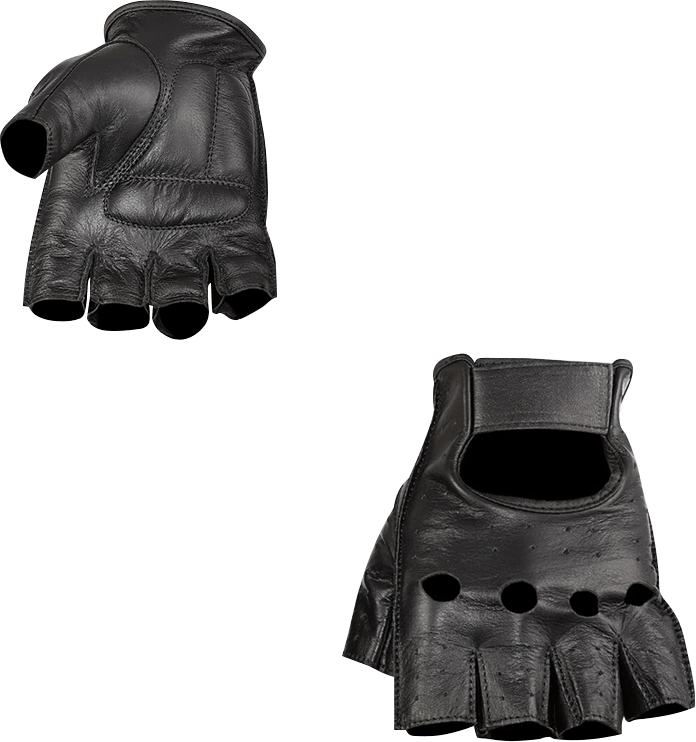 Men's Half Finger Motorcycle Leather Gloves
Color: Black
Available Size:  XS,  S, M,  L, XL, XXL, 3XL.
Brand Heritage Biker Gear
For Sizes, Please Refer to the Size Guide
Men's Half Finger Motorcycle Leather Gloves Details
Men's Half Finger Motorcycle Leather Gloves made from Genuine leather with gel padded palms, Velcro closure, and perforated design for added comfort and ventilation. The biker glove has touch-screen friendly tips and to ensure rider's safety, we have added knuckle protection.
The 100% Genuine Leather provides shape retention, so the product will not sag and wrinkle less overtime.
The leather is highly resilient against abrasions to provide more resistance between the body and the road for your protection, and also stands against wear and tear for product durability. Heritage biker Gear has a lot of designs on Leather Gloves and whole the designs are pure in quality. We have different colors and our manufacturers are well experienced and working from a long-time history in this field. We used pure leather for the premium quality of our products. 
Product Features:
CONSTRUCTION:            Genuine Leather
CLOSURE:                        Adjustable Velcro Strap
PROTECTION:                  Knuckle Protection
DEVICE-FRIENDLY:          Touch-screen Friendly Fingertips
PERFORATED DESIGN:   Improved Ventilation and comfort