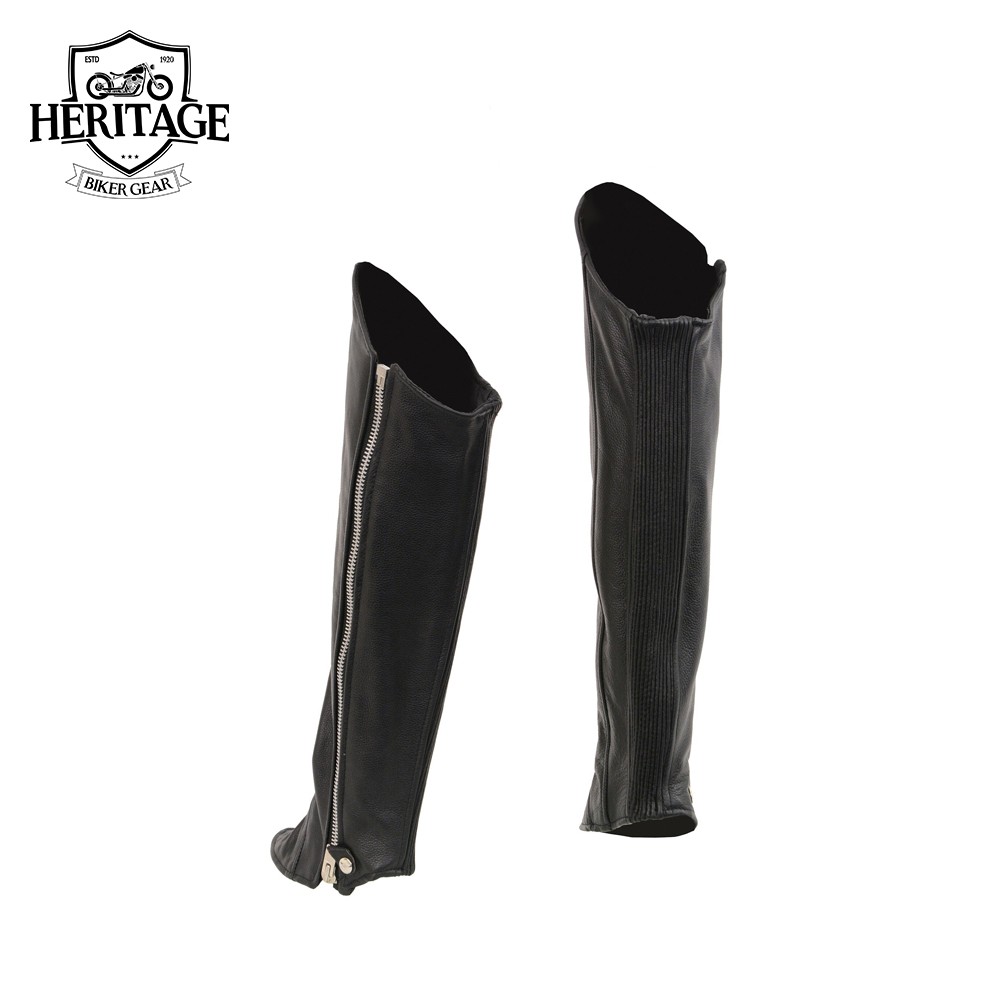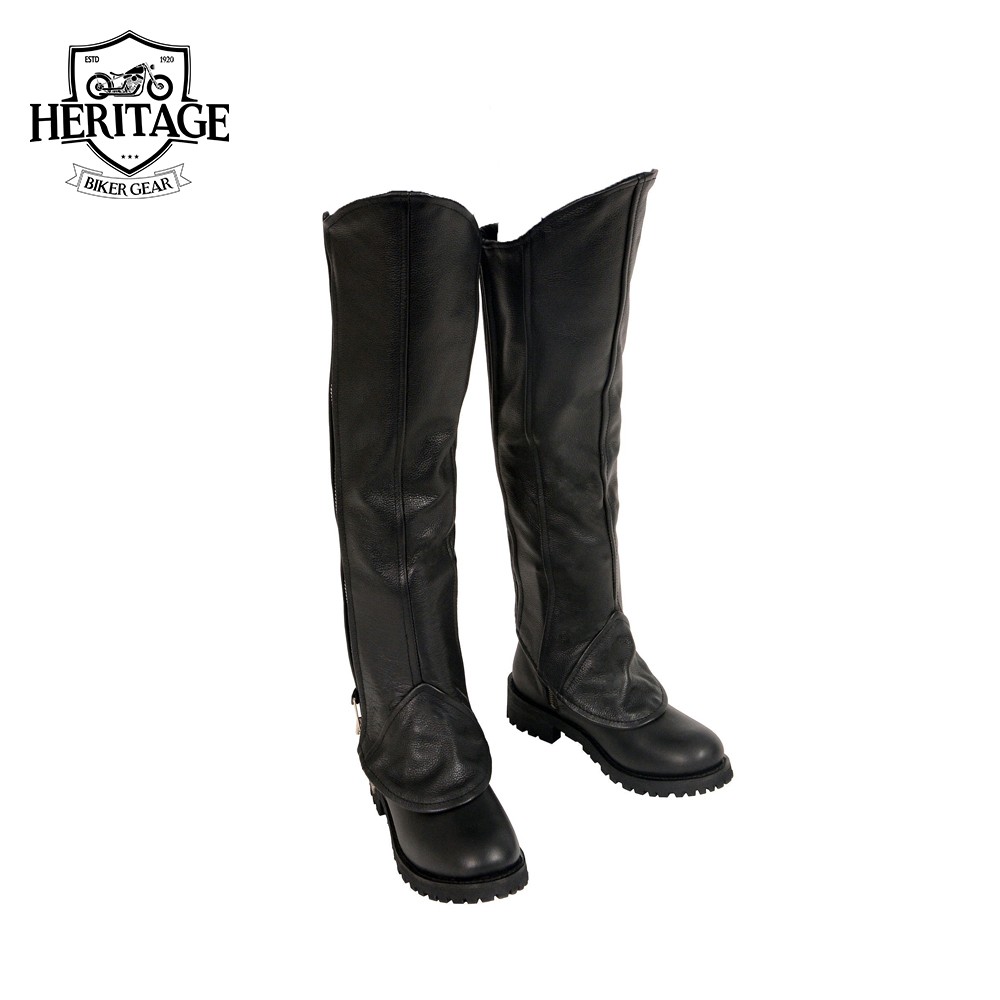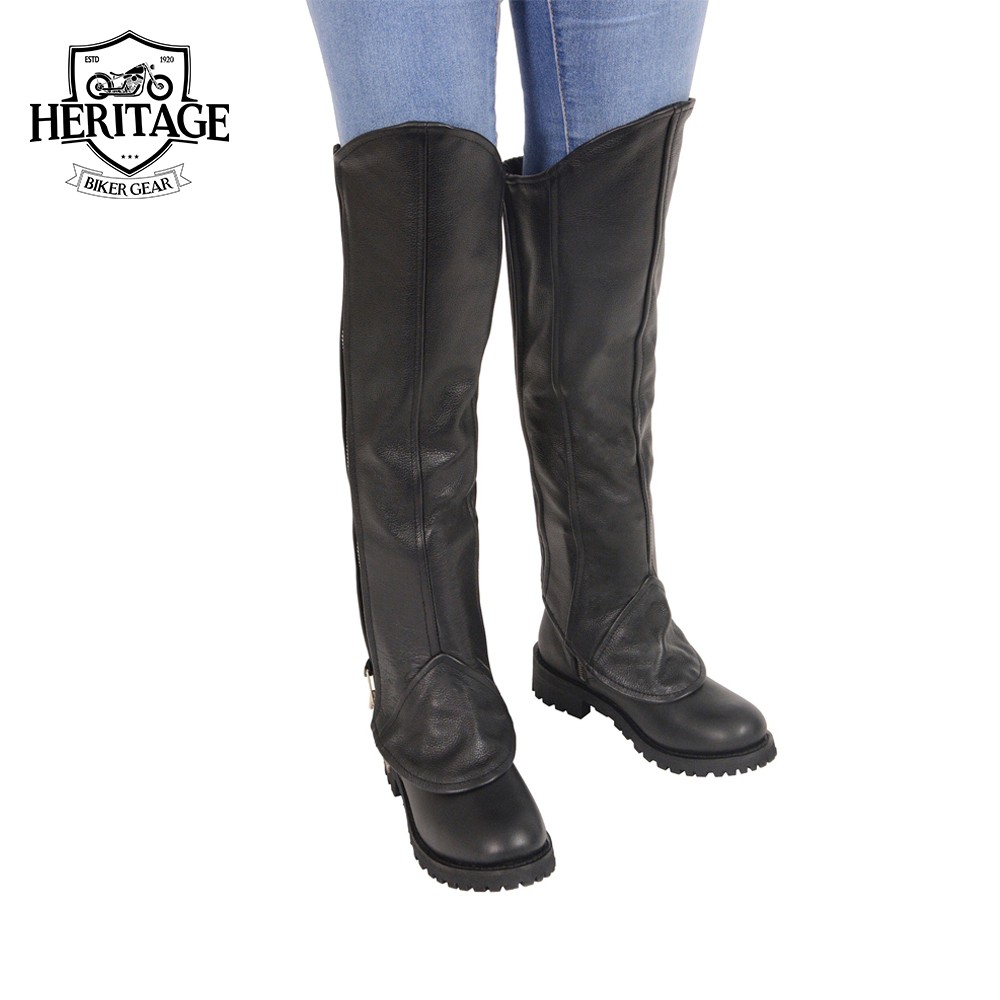 Ladies Knee High Half Chaps
Color: Black
Available Size:  2XS,  XS,  S,  M,  L,  XL,  XXL,  3XL.
Brand Heritage Biker Gear
Length Regular
For Sizes, Please Refer to the Size Guide at the Bottom
Ladies Knee High Half Chaps Details
Ladies Knee High Half Chaps is the Perfect Choice for Women's Leather Chaps with Features: Zipper Entry, Premium Cowhide Leather 1.0-1.1mm, Soft Satin Interior Liner, Zipper Entry with Snap Down Lock, Stretch Panels for Optimal Fit, Original YKK Zippers.
Heritage biker Gear has a lot of designs in Leather Motorcycle Women's Chaps and whole the designs are pure in quality. Our manufacturers are well experienced and working from a long-time history in this field. We use pure leather for the premium quality of our products. 
Key Features:
Premium Cowhide Leather: Crafted from high-quality 1.0-1.1mm cowhide leather for durability and a luxurious appearance.
Zipper Entry with Snap-Down Lock: Convenient zipper entry with a snap-down lock for secure closure and easy wear.
Soft Satin Interior Liner: Features a soft satin interior liner for added comfort during rides.
Stretch Panels: Incorporates stretch panels for an optimal fit, ensuring comfort and flexibility.
Original YKK Zippers: Equipped with original YKK zippers, known for their durability and reliability.
Care Instructions:
Regular Cleaning: After each ride, wipe the knee-high half chaps with a damp cloth to remove dust and dirt.
Leather Conditioner: Apply a leather conditioner periodically to maintain the suppleness of the leather and prevent drying.
Storage: Store the chaps in a cool, dry place, away from direct sunlight or heat sources.
Avoid Moisture: Keep the chaps away from excessive moisture, and if they get wet, allow them to air dry naturally.
Zipper Care: Ensure that the zippers are clean and free of debris to maintain smooth operation.
By following these care instructions, you can prolong the life and appearance of your Ladies Knee High Half Chaps, keeping them in excellent condition for your rides.