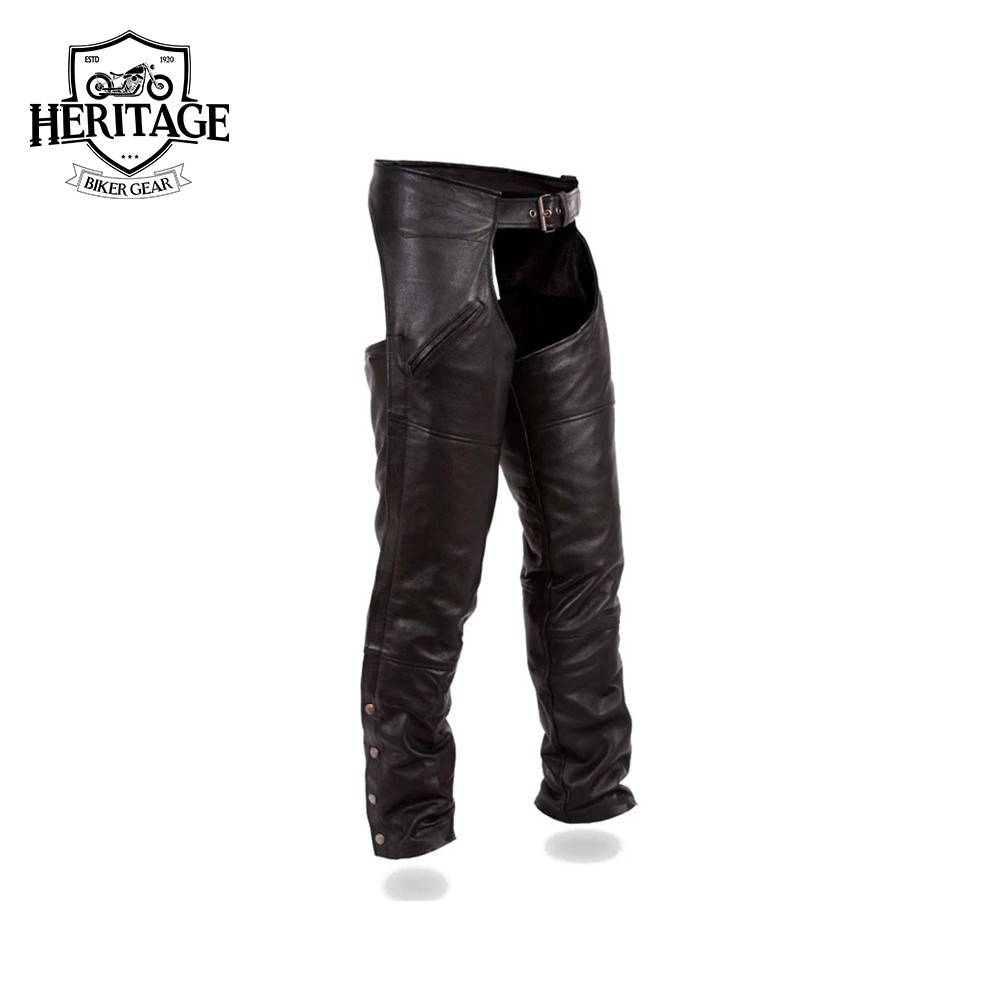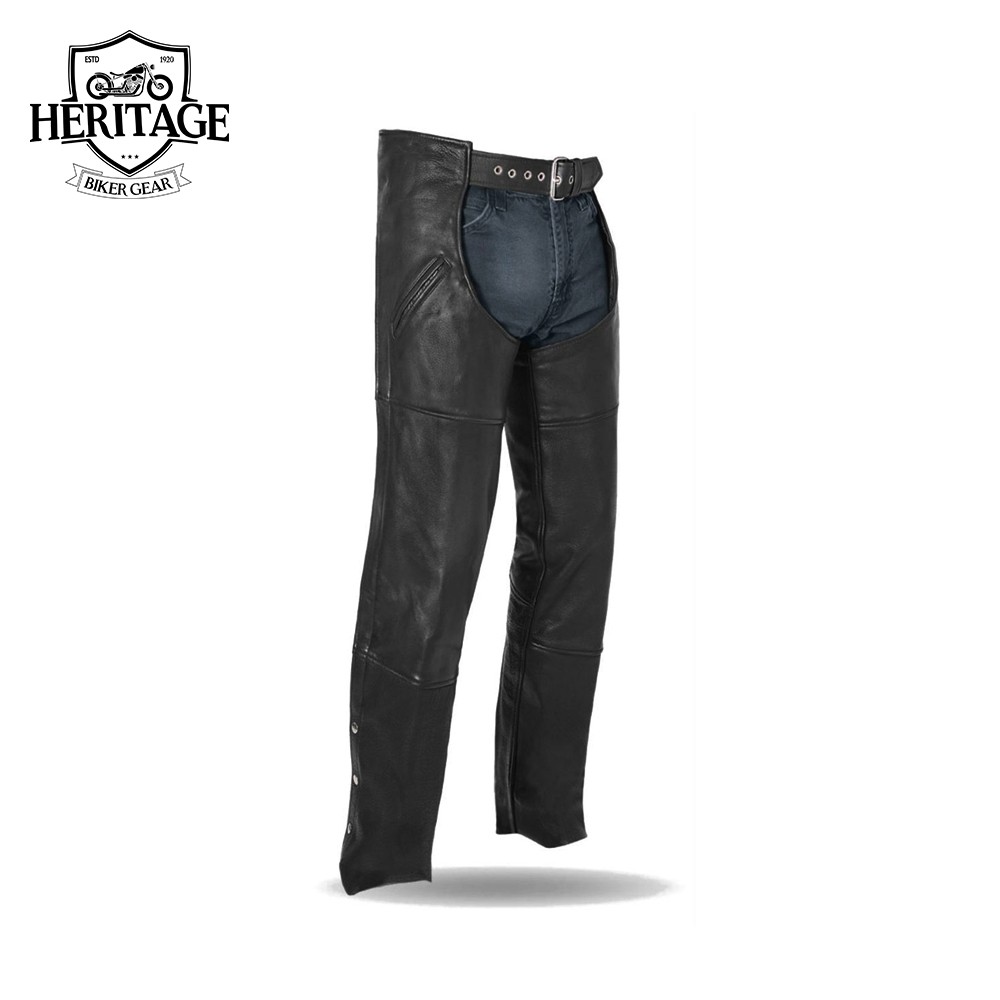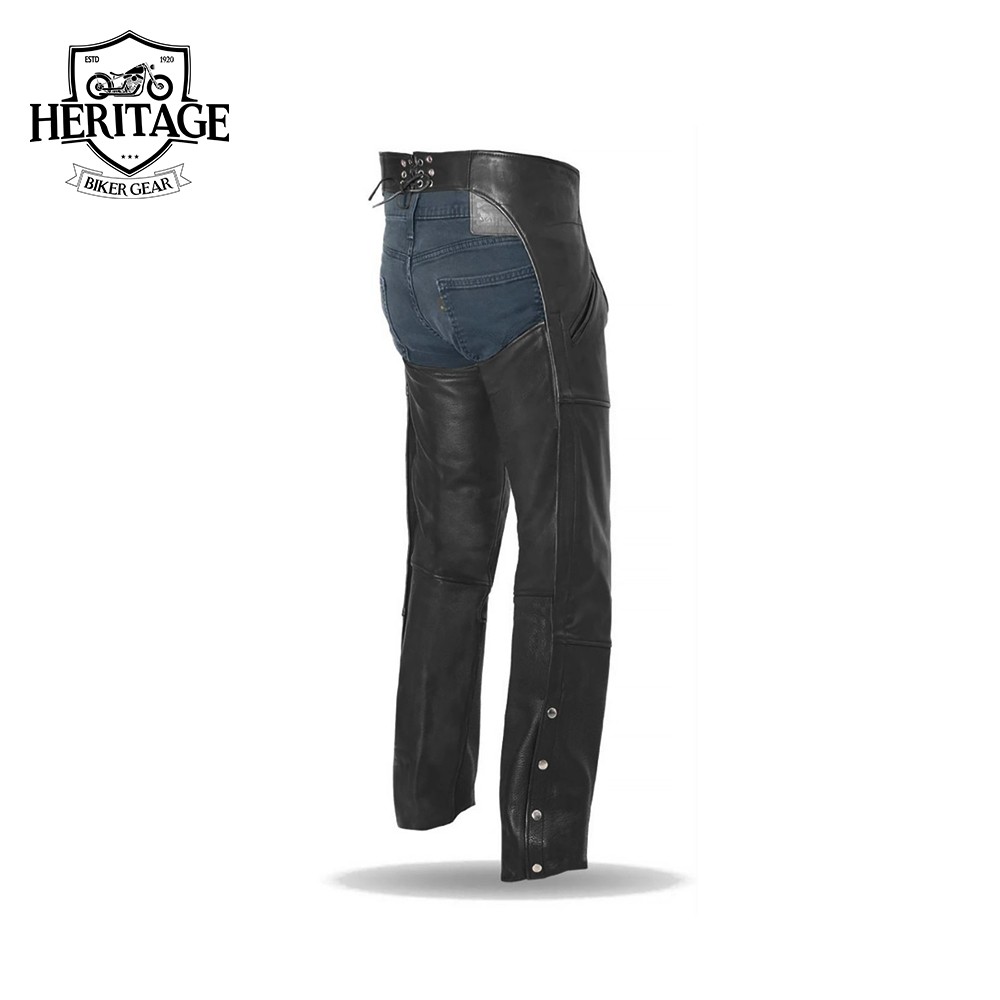 Men's Premium leather Motorcycle Chaps milled cowhide
Color: Black
Available Size:  3XS,  2XS,  XS,  S,  M,  L,  XL,  XXL,  3XL,  4XL,  5XL,  6XL,  7XL,  8XL.
Brand Heritage Biker Gear
For Sizes, Please Refer to the Size Guide at the Bottom
Men's leather Motorcycle Chaps milled cowhide Details
Men's Premium leather Motorcycle Chaps milled cowhide made from soft-milled cowhide leather for the utmost comfort while riding. 17″ deep storage pockets for secure storage of any valuables you may need to bring along with you and promote the most comfortable riding position possible. So don't go another day without proper protection while riding – pick up a pair of our motorcycle riding chaps today!
Heritage Biker Gear has a lot of designs in Leather Motorcycle Chaps and whole the designs are pure in quality. Our manufacturers are well experienced and working from a long-time history in this field. We use pure leather for the premium quality of our products. 
Product Features:
Premium Leather: Crafted from high-quality soft-milled cowhide leather for durability and comfort.
Comfortable Fit: Designed for a comfortable and secure fit while riding, allowing for ease of movement.
Deep Storage Pockets: Two spacious 17″ deep pockets provide ample storage for your essentials while on the road.
Secure Closure: Equipped with secure closures to keep your belongings safe and in place during rides.
Enhanced Protection: Offers added protection for your legs and clothing against wind, debris, and road elements.
Versatile Design: Suitable for various riding styles, including cruiser, touring, and more.
Adjustable Straps: Features adjustable waist and leg straps for a customized fit.
Care Instructions:
Regular Cleaning: Wipe down the chaps with a damp cloth to remove dust and dirt after each ride.
Leather Conditioner: Apply a leather conditioner periodically to maintain the suppleness and prevent drying out of the leather.
Storage: Store the chaps in a cool, dry place, away from direct sunlight or heat sources.
Avoid Moisture: Keep the chaps away from excessive moisture, as it can damage the leather. If they get wet, allow them to air dry naturally.
Avoid Sharp Objects: Be cautious around sharp objects that can puncture or scratch the leather.
Periodic Inspection: Regularly inspect the closures and straps for any signs of wear or damage, and replace them if necessary.
Professional Cleaning: For stubborn stains or extensive cleaning needs, consult a professional leather cleaner.
By following these care instructions, you can ensure the longevity and continued comfort of your Heritage Biker Gear® Men's Leather Motorcycle Chaps.