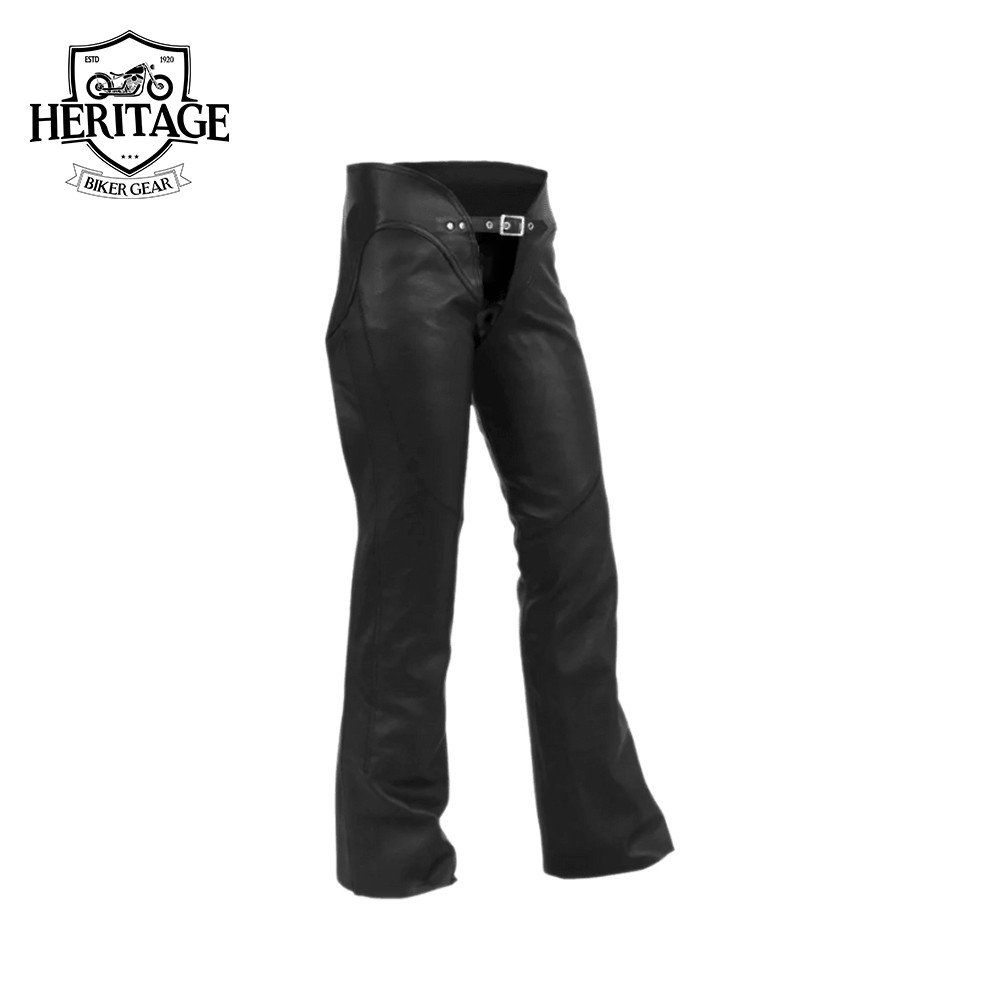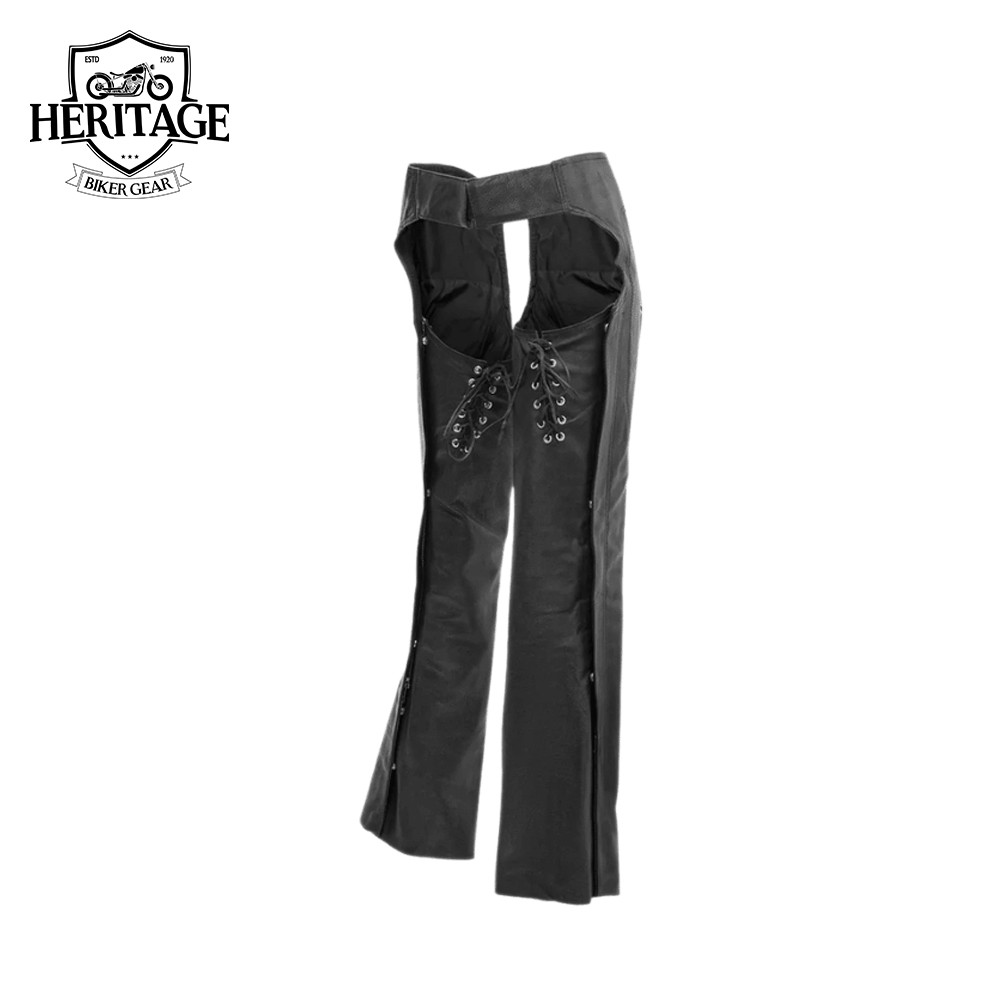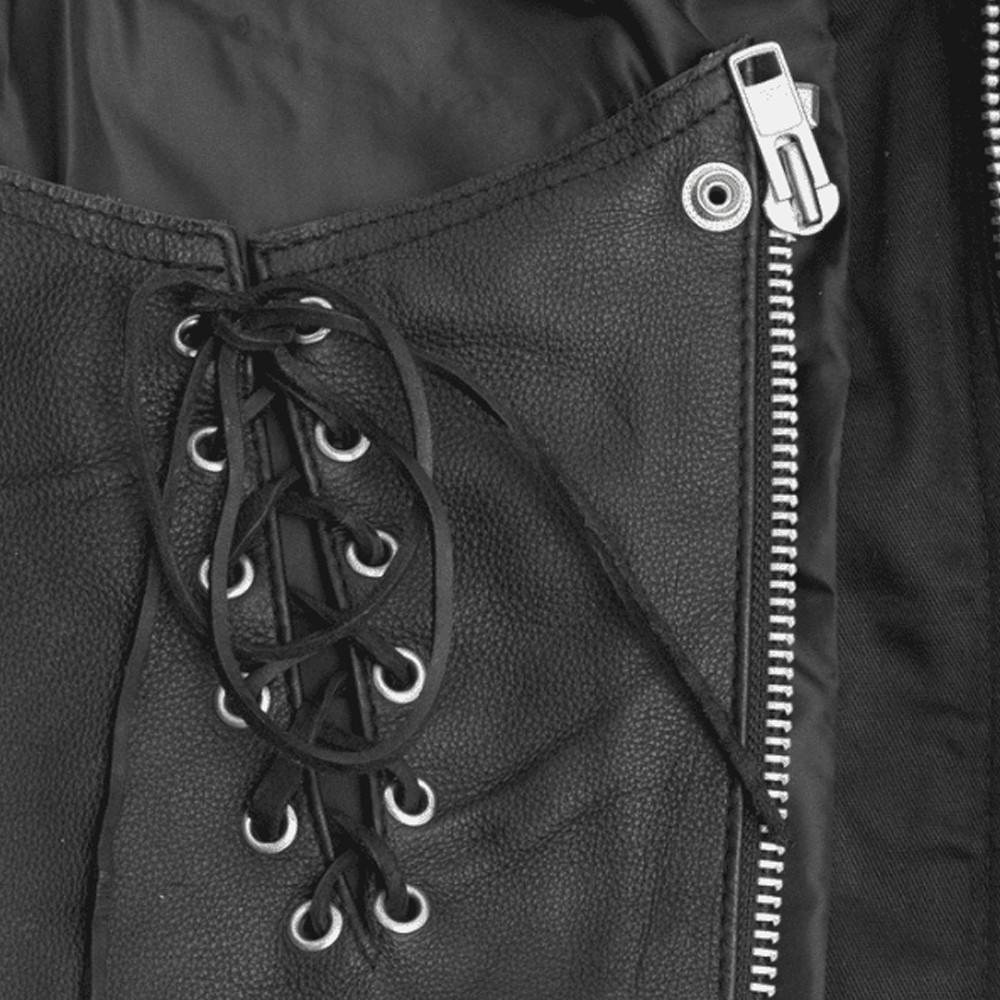 Color: Black
Available Size:  3XS,  2XS,  XS,  S,  M,  L,  XL,  XXL,  3XL,  4XL,  5XL,  6XL,  7XL,  8XL.
Brand Heritage Biker Gear
For Sizes, Please Refer to the Size Guide at the Bottom
Women's Leather Chaps Details
Women's Leather Chaps has Premium Quality with features 1.1-1.2mm Drum Dye Naked Cowhide, Hip hugging curvy fit, Low rise with a single belt in the front and added rivet decorations, Zipper buffer that prevents liner from catching in the zippers, Four snap boot cuffs, Self adjusting back belt, adjust automatically to size when the front is buckled, Thigh lace adjusters to help customize thigh fitting, Fully lined with mesh liner.
Heritage biker Gear has a lot of designs in Leather Motorcycle Chaps and whole the designs are pure in quality. Our manufacturers are well experienced and working from a long-time history in this field. We use pure leather for the premium quality of our products. 
Key Features:
Premium Leather: Crafted from 1.1-1.2mm Drum Dye Naked Cowhide for durability and a luxurious look.
Curvy Fit: Designed to provide a hip-hugging, curvy fit that enhances the wearer's style.
Low Rise Design: Features a low rise with a single belt in the front, accented with rivet decorations for added flair.
Zipper Buffer: Equipped with a zipper buffer to prevent the liner from catching in the zippers, ensuring safety and ease of use.
Snap Boot Cuffs: Four snap boot cuffs for added convenience and a secure fit over your boots.
Self-Adjusting Back Belt: The back belt adjusts automatically to size when the front is buckled, ensuring a perfect fit.
Thigh Lace Adjusters: Thigh lace adjusters help customize the thigh fitting for personalized comfort.
Mesh Liner: Fully lined with a mesh liner for added comfort and breathability during rides.
Care Instructions:
Regular Cleaning: After each ride, wipe the chaps with a damp cloth to remove dust and dirt.
Leather Conditioner: Periodically apply a leather conditioner to maintain the suppleness and prevent drying of the leather.
Storage: Store the chaps in a cool, dry place, away from direct sunlight or heat sources.
Avoid Moisture: Keep the chaps away from excessive moisture, and if they get wet, allow them to air dry naturally.
Zipper Care: Ensure that the zippers are clean and free of debris to maintain smooth operation.
Lace Adjusters: Check and adjust the thigh lace adjusters as needed to maintain the desired fit.
Professional Cleaning: For stubborn stains or extensive cleaning needs, consult a professional leather cleaner specializing in motorcycle gear.
Following these care instructions will help preserve the quality and appearance of your Women's Leather Chaps, keeping them in excellent condition for your rides.