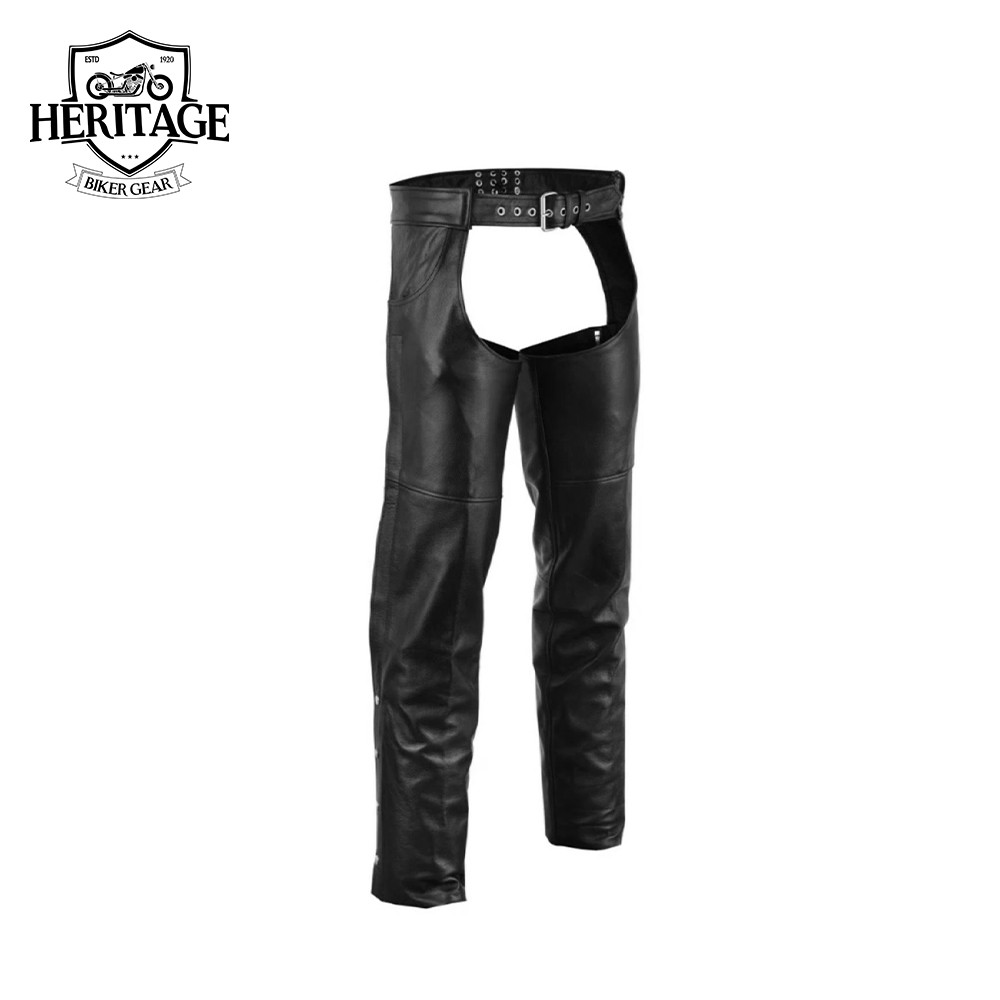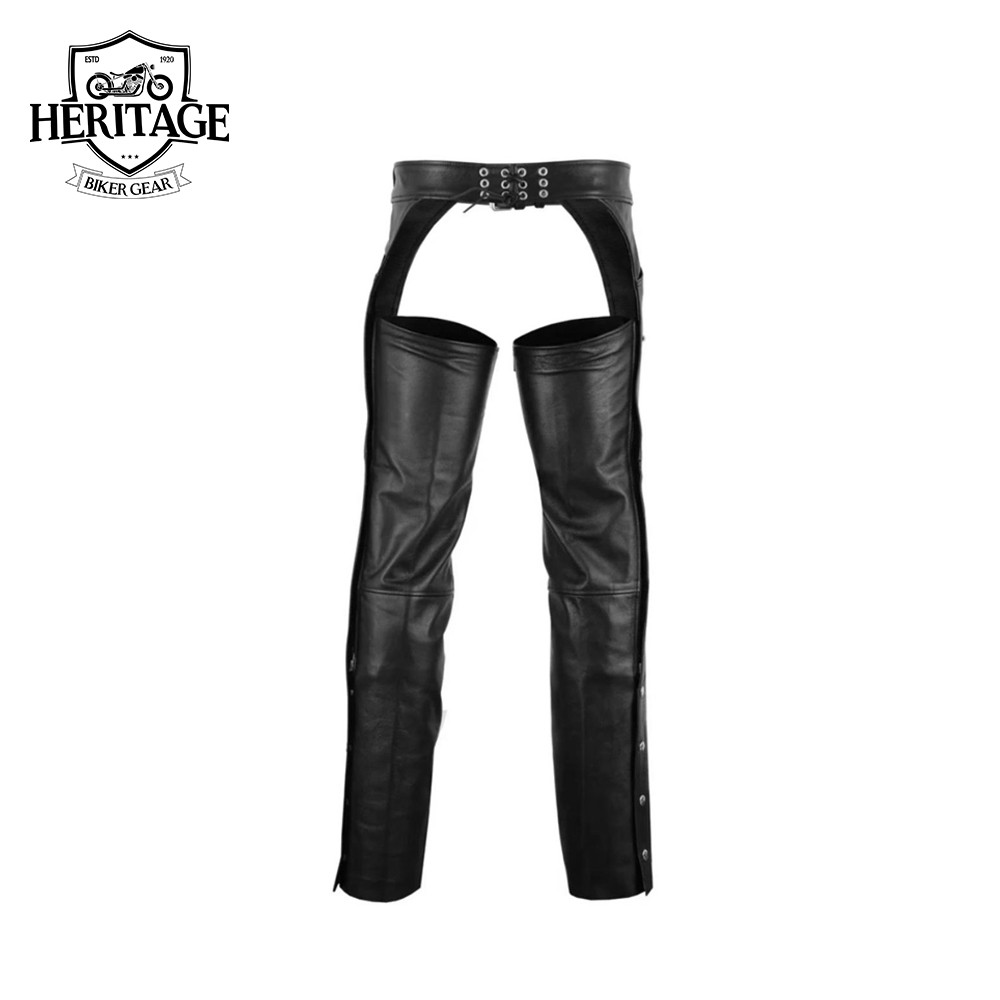 Unisex Leather Chaps with 2 Jean Style Pockets
Color: Black
Available Size:  3XS,  2XS,  XS,  S,  M,  L,  XL,  XXL,  3XL,  4XL,  5XL,  6XL,  7XL,  8XL.
Brand Heritage Biker Gear
For Sizes, Please Refer to the Size Guide at the Bottom
Unisex Leather Chaps with 2 Jean Style Pockets Details
Unisex Leather Chaps with 2 Jean Style Pockets, Features with Soft Milled, Cowhide 1.2 – 1.3mm, Two jean style pockets, Mesh underlining for comfortable, riding in hot or cold weather, Zipper buffer prevents liner from catching in zipper, Unfinished hem for trimming to correct size and Heavy snaps & heavy-duty zippers. Heritage biker Gear has a lot of designs in Leather Motorcycle Chaps and whole the designs are pure in quality. Our manufacturers are well experienced and working from a long-time history in this field. We use pure leather for the premium quality of our products. 


Key Features:
Premium Cowhide Construction: Crafted from soft milled cowhide leather with a thickness of 1.2 – 1.3mm for exceptional durability and comfort.
Jean Style Pockets: Equipped with two jean-style pockets for convenient storage of small essentials while riding.
Mesh Underlining: Features a mesh underlining that enhances comfort during rides, providing breathability in both hot and cold weather.
Zipper Buffer: Includes a zipper buffer to prevent the liner from catching in the zipper, ensuring safety and ease of use.
Customizable Hem: Comes with an unfinished hem, allowing you to trim it to the correct size for a personalized fit.
Heavy Snaps & Zippers: Designed with heavy-duty snaps and zippers that are built to last, ensuring the chaps' longevity.
Unisex Design: Suitable for both men and women, providing versatility in style and fit.
Heritage Biker Gear Quality: Part of the Heritage Biker Gear collection, known for its pure and high-quality leather motorcycle gear.
Experienced Manufacturers: Manufactured by experienced professionals with a long history in the field, ensuring quality and craftsmanship.
Pure Leather: Crafted using pure leather to guarantee the premium quality of the product.
Care Instructions:
Regular Cleaning: After each ride, wipe down the chaps with a damp cloth to remove dust, dirt, and any road debris.
Leather Conditioner: Apply a high-quality leather conditioner periodically to maintain the suppleness and prevent the leather from drying out or cracking.
Storage: Store the chaps in a cool, dry place, away from direct sunlight or heat sources, to prevent any potential damage to the leather.
Avoid Moisture: Keep the chaps away from excessive moisture, as it can harm the leather. If they get wet, allow them to air dry naturally, avoiding direct heat sources.
Trimming: If you need to trim the chaps to the correct size, do so carefully and evenly, following the provided guidelines.
Hardware Maintenance: Periodically inspect and lubricate the heavy snaps and zippers to ensure they operate smoothly and remain in good condition.
Professional Cleaning: For stubborn stains, extensive cleaning, or maintenance needs beyond regular care, consult a professional leather cleaner who specializes in motorcycle gear.
By following these care instructions, you can ensure the longevity and continued performance of your Unisex Leather Chaps with 2 Jean Style Pockets, keeping them in excellent condition for your rides.