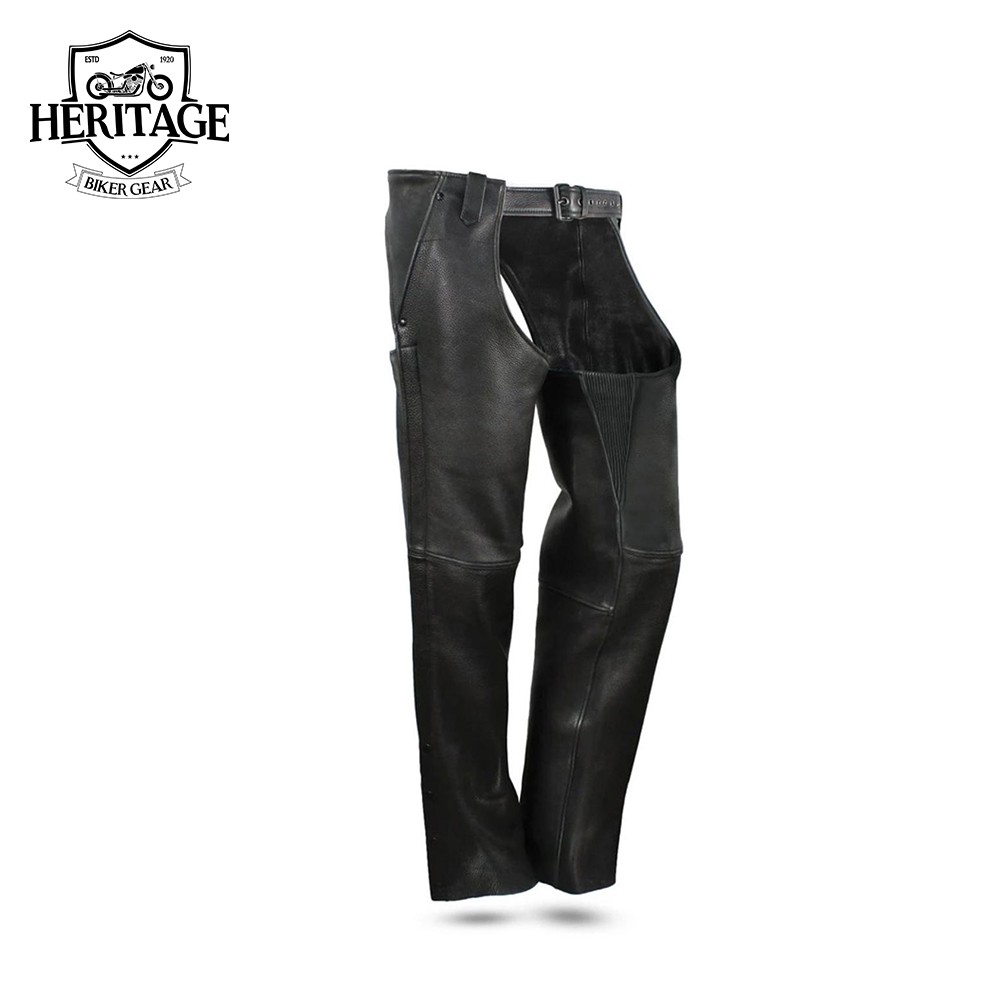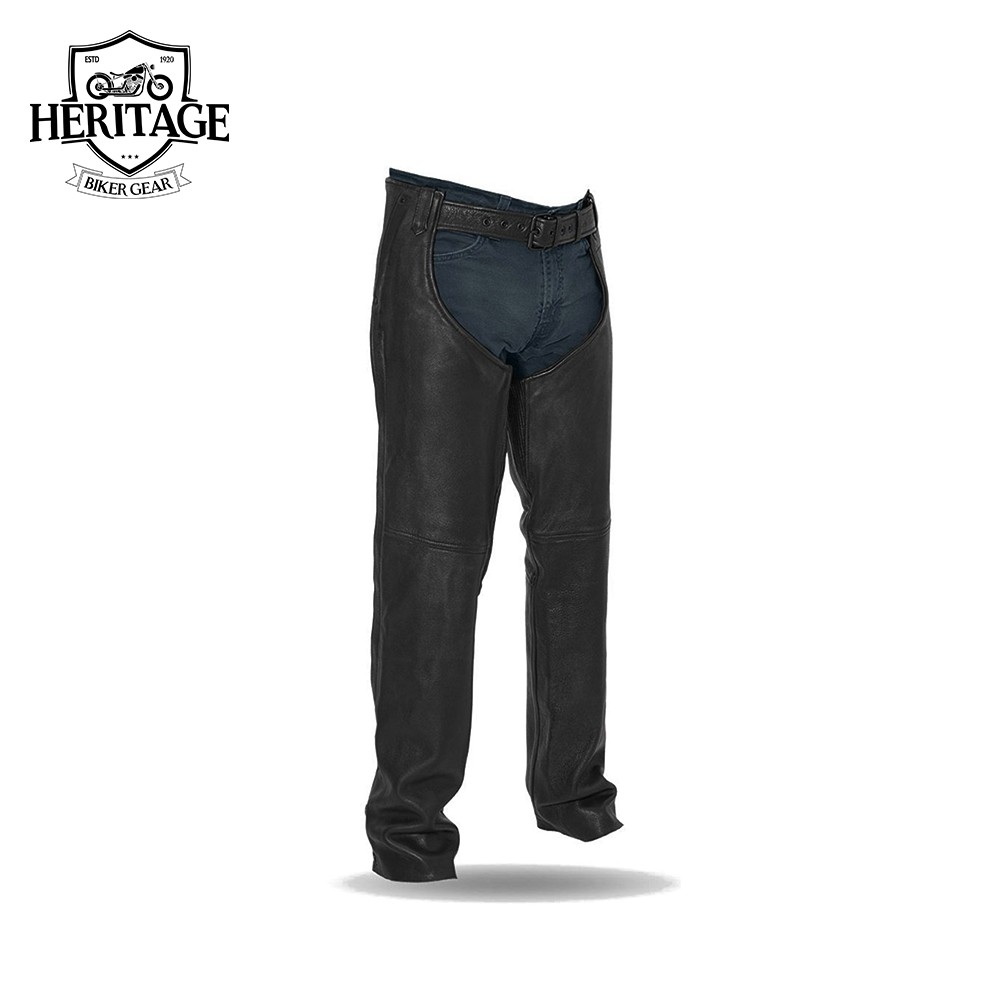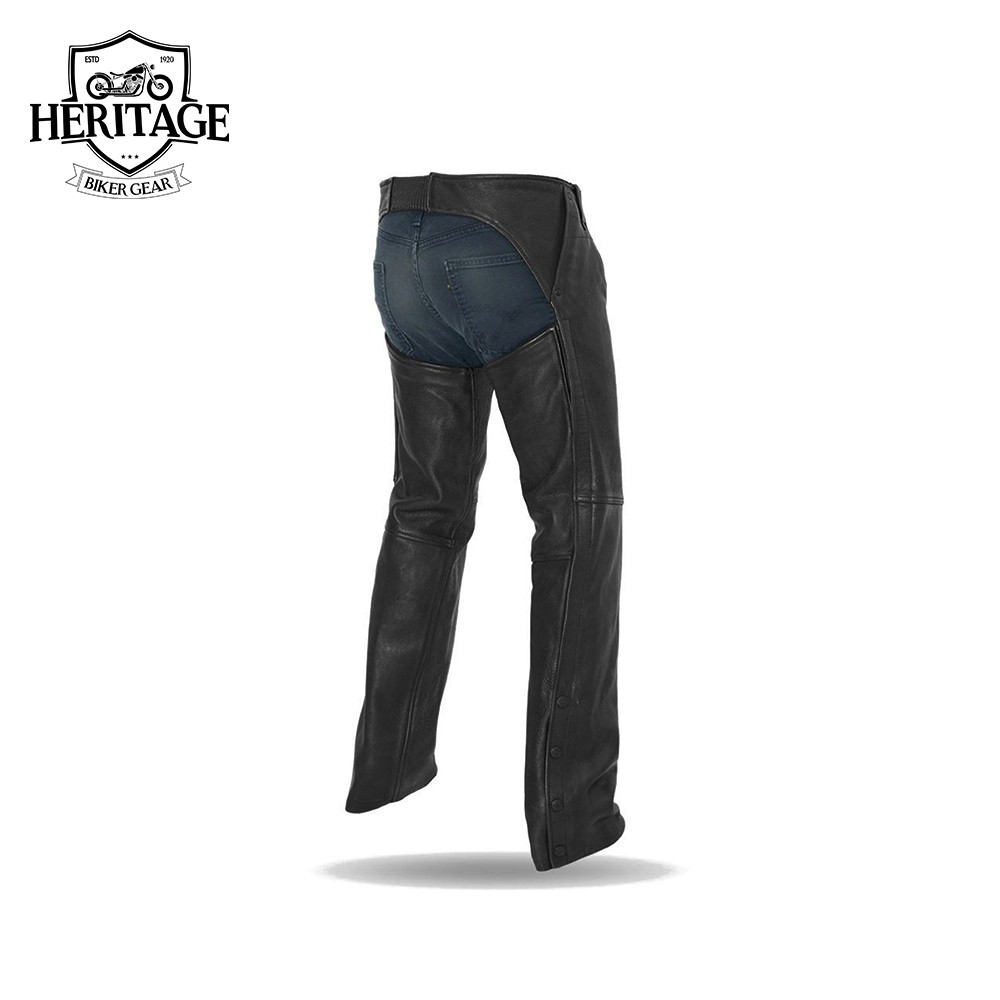 Unisex Platinum Cowhide Motorcycle Leather Chap
Color: Black
Available Size:  3XS,  2XS,  XS,  S,  M,  L,  XL,  XXL,  3XL,  4XL,  5XL,  6XL,  7XL,  8XL.
Brand Heritage Biker Gear
For Sizes, Please Refer to the Size Guide at the Bottom
Unisex Platinum Cowhide Motorcycle Leather Chap Details
Unisex Platinum cowhide Motorcycle Leather Chap will stay with you for a very long time. Great Choice with 1.4 mm Platinum cowhide, Heavy duty blacked out hardware and zippers, One pocket on each side, Four snaps at the bottom, Unlined and Lifetime warranty on hardware and zippers. Heritage biker Gear has a lot of designs in Leather Motorcycle Chaps and whole the designs are pure in quality. Our manufacturers are well experienced and working from a long-time history in this field. We use pure leather for the premium quality of our products. 
Key Features:
Premium Platinum Cowhide: Made from 1.4 mm thick Platinum cowhide leather, providing exceptional durability and longevity.
Heavy-Duty Hardware: Equipped with heavy-duty blacked-out hardware and zippers for added durability and a sleek appearance.
Convenient Pockets: Features one pocket on each side, offering convenient storage space for small essentials while riding.
Secure Snap Closure: Four snaps at the bottom ensure a secure fit and easy adjustment to accommodate various leg sizes.
Unlined Design: Designed to be unlined, providing a comfortable and lightweight riding experience.
Lifetime Warranty: Enjoy peace of mind with a lifetime warranty on hardware and zippers, showcasing the product's quality and durability.
Pure Leather: Crafted using pure leather, ensuring a premium and genuine quality product.
Unisex Design: Suitable for both men and women, offering versatility in style and fit.
Care Instructions:
Regular Cleaning: After each ride, wipe down the chaps with a damp cloth to remove dust and dirt.
Leather Conditioner: Periodically apply a leather conditioner to maintain the leather's suppleness and prevent it from drying out.
Storage: Store the chaps in a cool, dry place, away from direct sunlight or heat sources, to prevent any damage to the leather.
Avoid Moisture: Keep the chaps away from excessive moisture, as it can harm the leather. If they get wet, allow them to air dry naturally.
Prevent Sharp Objects: Be cautious around sharp objects that can puncture or scratch the leather.
Hardware Maintenance: Periodically check and lubricate the hardware and zippers to ensure smooth operation.
Professional Cleaning: For stubborn stains or extensive cleaning needs, consult a professional leather cleaner who specializes in motorcycle gear.
By following these care instructions, you can ensure the longevity and continued performance of your Heritage Biker Gear® Unisex Platinum Cowhide Motorcycle Leather Chaps.